---

---

---

---

---

---
FAQ's
Here are some of the answers to our customer's most frequently asked questions. If you have a question not answered on this page, please email us and we'll be happy to help.
What do the paper weights mean?
One of the more confusing aspects of printing is knowing the paper weights. It is complicated to explain the method with which different sheets are weighed, so we have created a list of the common papers and there respective thicknesses. The first box shows lighter weight papers. The second box shows most common heavy cover weights.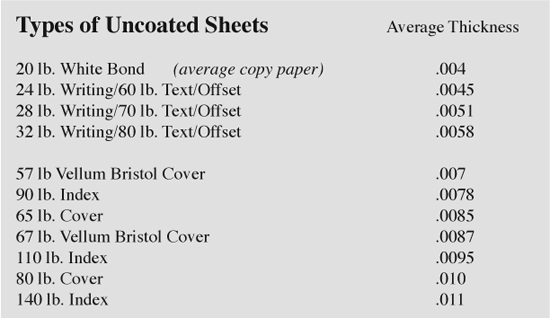 What is the difference between spot and process color?
Spot color is when a job is printed using each individual color in the job. For example, a job with with a green and black logo would be 2 spot colors - green and black. A job with only black ink, would be considered one spot color.

Full or Process color is when 4 basic (Cyan, Magenta, Yellow & Black - CMYK) colors are combined to produce many different colors. For example, a job with a full color photo would use 4 color process to create a full color photo.
What do these numbers stand for: 1/0, 4/0, 4/4, 2/1?
Those numbers describe the amount of color on a specific job. 1/0 would mean, one color on the front and nothing on the back. 4/0 would mean four colors (generally process colors) or full color on the front and nothing on the back. 4/4 would mean full color on the front and back. 2/1 would mean two colors on the front and one color on the back.